SELLER FOR 120 MOREGATE CRES SOLD 99% OF ASKING PRICE

My wife and I are very happy we used Remax to sell our townhouse at 120 Moregate Cres. Sunny Purewal was very professional and he did everything he said. When we listed our house with Sunny, we were surprised when he said, "get ready, because I will show your house tomorrow", and he did. We had 2 offers already the day after. In 2 days we had sold our house. When you sign with Sunny, he is like a freight train. Starts at 110% and builds even more steam and is faster than a speeding bullet. A Remax Realty Superman. Sunny is such a dedicated, honest and reliable person. this type of work ethic is hard to find. Sunny Purewal is our Superman. Remax has not only met our expectations but has knocked it out of this world. Outstanding, we wish Sunny well.
Harpreet Singh Grewal, Brampton
We would like to thank you for your hard work and dedication in the purchase of our new property and sale of our home. You by far exceeded our expectations and achieved the stretch targets we set out for you, while always maintaining the highest level of professionalism and drive to meet our needs. From the day we met you, we knew you were the right person for the task. You ensured we got the home we wanted on our conditions and sold our home for more than asking price at record high for the street. Once again we thank you and will recommend you to everyone without any reservation.
Mike and Connie Carreiro, Brampton
We wanted to thank you for your professionalism and understanding in the sale of our home. It's a pleasure to write this letter to thank you for all your hard work in selling our home. Thanks, in your case, certainly is not enough ! We hope this letter explains our belief that you are an exemplary Realtor. From the time our first meeting you were honest and direct. You explained to us how the process would unfold so we wouldn't be surprised and you recommended things that we could do to help with the sale. Unlike many of your contemporaries you communicated frequently and effectively with the community and us. To your credit we were never blindsided or in the dark at any time. It's without hesitation we would seek you out with any future real estate needs.
Harpreet Singh, Grewal Sarbjit, Kaur Grewal | Brampton, ON
Sunny, I would like to thank you for your hard work, dedication and support from the day you listed my property on the market. Your dedication and persistence was extremely impressive – you never gave up. It is without hesitation that I would recommend you to family and friends in the future for your services. You are extremely knowledgeable, resourceful, dedicated, honest, reliable, and patient and you carry yourself in a very professional manner. You always thought of me, as your client first. You always provided me with realistic expectations. You respectfully gave me information I needed to make a decision and then you acted upon it and supported me through it. You were generous with your time, and respected mine. You were flexible and made yourself available to my busy schedule. You went beyond your call of duty at all times. Most importantly Sunny, you have earned my trust.
Christopher Vienneau, Brampton
When its come to selling a home you need to know who will do the best!! I had interviewed 4 agents and SUNNY PUREWAL was one of them. We decided to list with SUNNY PUREWAL because of his knowledge and professionalism. He was so honest and very professional. He told us what he will do when we list with him. He was so accurate on the evaluation. His marketing and advertising system is phenomenal. SUNNY PUREWAL sold our home so quick ! It was sold in 2 days . He was very professional and listened to our needs. He was always available and even went the extra mile to accommodate us; I would highly recommend him and would use his services again. If you are thinking to sell your home then you can't find better person than SUNNY PUREWAL. Thank you so much sunny, you are awesome.
GARY AND JULIE, Brampton
Sunny Purewal was our sales representative for our home. He definitely exceeded expectations. Not only did he get us what we wanted in price, but he did in showings, guidance, honesty and all other aspects of him being our agent. I have had bad experiences with real estate professionals and Sunny proved that agents can be honest, hard working and committed to sales.
Patrick Merjo, Brampton
Sunny was a delight to work with. Everything he promised us; he delivered! We were very impressed with the level of priority he placed on selling our home and the effort he expended on us. He made us feel at ease and comfortable after our very first meeting. He definitely made the sale of our house a better experience than we were expecting!"
Paula, Brampton
SELLER FOR 14 IRENE CRES SOLD AT ASKING PRICE

It is our pleasure to express thanks to Sunny Purewal for professional and personal way he has handled the selling of our home at 14 Irene Crescent. We picked Sunny to be our realtor due to his extensive knowledge of the local housing market, proffessional appraisal, and full commitment towards the sale. He has listened to our concerns and patiently guided us through our decisions. He respected our wishes and worked diligently to protect our best interest. Sunny was very prompt in listing our property and his exceptional marketing techniques resulted in our house being SOLD on the first day. We have and will continue to recommend Sunny to our family and friends, and will definitely call him when we are ready to move again.
Aneta and Tomasz Niedrygas, Brampton
Seller for 3 monte vista, heartlake..BRAMPTON

Thanks for everything you done to get our house sold. I interviewed 4 agents when I was in the process to list my house. SUNNY PUREWAL was one of them. When he came to my house and suggestion he gave us . he was so honest and professional. He told us he won't tell us what the most seller want to hear..he will tell them what he think about the house and price. He was very direct. when we listed our house with him , he was always there for us, he kept us up to date all the time. He always answered his phone even some time almost midnight. He sold our house in few days. so for I sold 3 homes and sunny was the most honest and professional real estate agent we met. For sure Sunny we will recommend your name to everyone who is looking to sel or buy a home. God bless you sunny with more success.
Seller, Brampton
Hi Sunny, We are so pleased to have our home listed with you. We were at ease and at peace to know that you were doing your best. Your calm behavior and humble spirit together adds to your professionalism. We know that you put a lot of time and effort into your job to see work done well. Thank you for helping us getting our house sold, and would recommend you to anyone looking for a realtor. Sincerely Xavier family SELLER FOR 35 FALLSTAR SOLD 99 % OF ASKING PRICE
Xavier Family, Brampton
From the first when I met Sunny I knew he was the right person to sell my house! He always kept me inform of what was happening and what was going to happen. He's the most hardworking person I've ever met. He was patient and very understandable professional real-estate person. Since I was a first time sellers. He sold my house almost at asking price in 4 days. He is such a honest person. I will refer him anyone who's is looking for a realtor to sell or buy. Thanks God for sending him to me. Thank you so very much Sunny!!!
Seller, Brampton
Hi Sunny, I'm sending you this letter which you truly deserve. Thank you for everything. God bless you. Bob/Lorna If you are thinking to buy/sell a house, Sunny is the smartest guy we met and the best choice we ever made. He is so honest, dedicated, reliable, persistent, well-mannered person. He is what people say on his flyers. Top 1 % agent and that is very true. He serves as an advocate to us. He supports our ideas and guides us with a lot of information we really do not understand. He puts himself to his client's shoes during the negotiation. To the point of sharing some of his commission just to show his heart for his client. Most important of all, he sold our house more than what we expected for. 102% sale on our home is truly a magnificent one. This is our third move so far, and if we consider moving again in the future, no doubt about it. We are getting him back. And I will not stop referring him to other people because of the great job he did for us. More power to you, Sunny! May God richly bless you more and more.
Seller, Brampton
Not enough words to tell you how we appreciate your hard work and dedication while representing us for the sale of our house. As you know I've gone through some research in order to pick the person that would best represent our interests. You came first in terms of professionalism . You have really gone beyond our expectations in selling our house in less than 2 weeks at a price we're really happy about. You have made our selling experience extremely easy. You were always available when needed So, thank you and you can rest assured that we will highly recommend your services to everyone we know.
Maria Arzadon, Brampton
We had called Mr.Sunny (as our son calls him) about one month ago to meet with him about representing our home sale. Sunny told us that he always has time for neighbours! We were thoroughly impressed with Sunny's marketing, advertising, punctuality and commitment to selling our house. He was very thorough with follow up and communication. With Sunny's passion and determination we were able to sell our house in 4 days for full asking price!!!!!! Thank you Sunny for a job well done!!!!!
The Kusidel Family, Brampton
My wife and I are very grateful for the work that Sunny has done for us. When we first invited him, he quickly pointed out the value of our home, and showed us some practical ways to highlight its value. Because of this, we were able to sell above our asking price in the winter season!! Sunny has been very prompt to respond, and was able to find us houses to look at that met our needs and requirements. Sunny is a great guy. He is professional, with quick understanding and is a thoughtful person -- we whole-heartedly recommend him to our friends and family.
Matthew & Rhoda, Brampton
SUNNY PUREWAL was a great agent. We just sold our home and we bought another one. He was always there when I needed answers he was there to answer them and if he didn't have the answer he would get it. Previously I had bad experience with real estate agent. I had my home listed with another agent and she never called back since I listed and never listened from her. My house sat in the market for 90 days and never sold. The day I listed with sunny he was there all the time to answer and help. My home sold in few days and got more money than I thought. He is a really good negotiator and he knows all the aspects of real estate. He negotiated $ 18500 from asking price when we were in the process to buy our home. Thank you sunny for all your help and hard work. I would recommend SUNNY PUREWAL to anyone who is looking to sell or buy home. He is such a good real estate agent and also man with a good heart.
Cindy and Shain, Brampton
Thanks Sunny for your efforts to sell our house. When we planned to sell our house, we were very nervous and hesitant to hire someone as our realtor. We saw your hoardings on most of houses listed or sold in our neighbourhood. Your dedication to work and expertise speaks in your actions to sell our property. Your excellent negotiation skills helped us to sell our house within given time frame. Thanks for your efforts and endeavours. Wish you a prosperous and successful year ahead.
Satwinder and Harpreet, Brampton
Seller for 40 ivy lea crt, brampton and buyer:

We started working with Sunny quite some time ago. He sold our parents house and found us ours. He worked very hard to complete both tasks and along the way became a friend of ours. His honesty and hard work is admirable. Typically I believe real estate agents to be like car salesman-you can't trust them. This is not the case with Sunny at all. He has restored our faith that there are real estate agents that put you first and not their bank accounts. I truly believe that he puts his customers needs first. He is honest and really cares. He will not force you to purchase a house in a hurry and move onto the next sale. He gives you time and space and only provides honest advice and opinions to help you come to a decision. He is definitely an agent with a good heart that we can now call a friend.
Joe and Lex, Brampton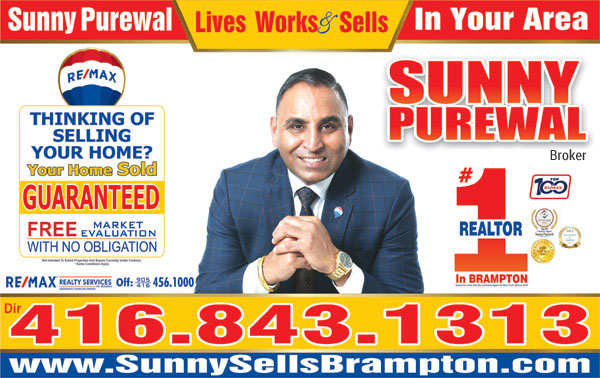 Thinking of buying or selling a property, or have a question regarding the real estate market? Fill out the form below and I'll get back to you promptly.