High debt levels, rising interest rates among challenges for 2019
12/19/2018 | SHARE
Posted in Canadian Economy and Housing Market by | Back to Main Blog Page
Canada's economy will slow down in 2019 with consumer spending impacted by weaker employment, cooling house prices, high levels of debt, and rising interest rates.
This, according to a new report from the Conference Board of Canada, will combine with lower government spending and constrained investment in the oil industry, to ease GDP growth from 2.1% this year to 1.9% in 2019.
"Canada's economy is facing a few challenges heading into 2019. Consumer spending has been driving economic growth over the last several years, but Canadians are tightening their purse strings. Economic growth in 2019 will depend on improved business investment and a better performance from the non-energy trade sector," said Matthew Stewart, Director, National Forecast, The Conference Board of Canada.
There are some brighter notes
On a positive note, investment outside the energy sector should pick up, buoyed by the CUSMA trade deal and federal measures allowing the write-off of certain investments.
Also, a tighter labour market should help drive wage rises as firms compete for a limited pool of workers.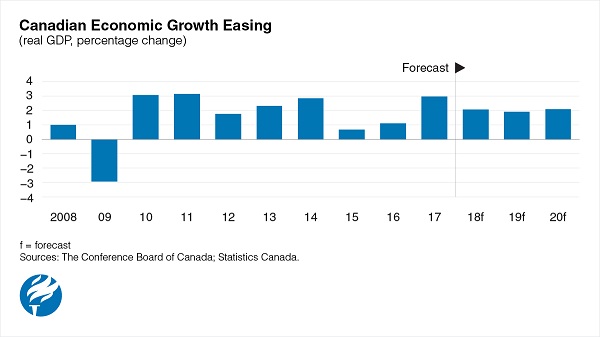 Canada, Consumer Spending, Economic Growth, Household Debt, Interest Rates
Thinking of buying or selling a property, or have a question regarding the real estate market? Fill out the form below and I'll get back to you promptly.